Location: Philadelphia, PA
Owner: Acadia Healthcare
Architect: Johnson Johnson Crabtree
Contractor: Alpa Construction
Construction Cost: $125 Million
We are proud to have senior living in the spectrum of healthcare services we provide design solutions for regularly.
These campuses are routinely many acres and multiple buildings.  Some, in more urban environments, are denser and include high rise buildings.  All of the venues give us ample opportunity to work with review agencies on the special questions that arise for this land use.  Congregate care is a hybrid of residential, commercial and sometimes other uses that do not fit well into some of the review agencies thought processes behind certain requirements like required parking, buffers and building setbacks.  Although these facilities are businesses, they don't impact their neighbors the same way a shopping center or restaurant might.  Many residents do not drive at these facilities. Most of the time, the facilities are built to look as residential as is fitting for the setting they are in.  They are often low rise with gabled roofs, heavily landscaped and lightly paved.  The Brookdale property in Roswell is beautifully placed in a heavily wooded setting.  The trees are evident in the background of the site plan below.  Ingram Civil was challenged to fit the site as gently as possible into the serene campus.  It's adjoiners include a neighborhood to the west and a buffered stream to the south.  Georgia is very serious about their storm water control.  Extensive erosion and sediment control measures, bioretention and detention are all utilized to make sure our storm runoff is clean and reduced not to exceed the flows prior to our project.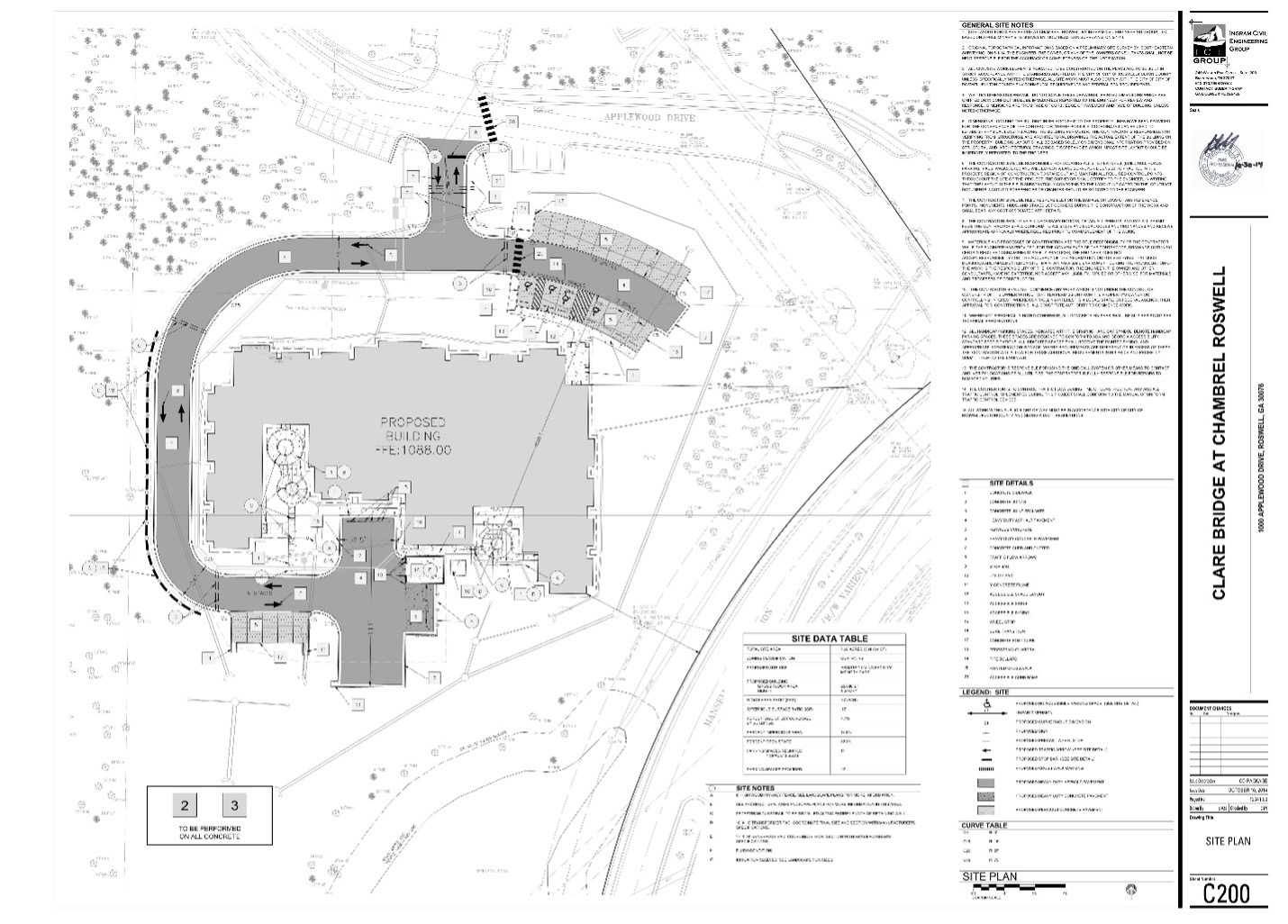 "With the number of people with Alzheimer's in Georgia expected to rise by 46% in the coming decade, two local Brookdale Senior Living (NYSE: BKD) communities are investing a combined $9.5 million to expand their capacity to serve those with memory-impairing diseases. Alzheimer's and dementia residents at both will be served by the Clare Bridge program, developed by Brookdale with a focus on the individual. The two expansions will create over 30 new jobs, including care, activities, culinary, programming and other positions.

Brookdale Roswell, located at 1000 Applewood Dr., is constructing an $8 million single-story building that will offer Alzheimer's and dementia care and accommodations for 36 people with dementia in 34 apartments. The project is scheduled to be finished by spring of 2016. Brookdale Roswell, whose campus spans 32 acres, already offers independent living villas as well as independent and assisted living apartments.

ROSWELL, Ga., Dec. 1, 2015 /PRNewswire

https://www.brookdalenews.com/soaring-georgia-alzheimers-numbers-prompt-95-million-roswell-dementia-care-expansions.htm